Ingredients
Organic black lentils
Organic brown rice elbow pasta
Organic mixed potatoes
Organic spinach
Organic onion
Extra virgin olive oil
Organic tomatoes
Spices
Basil
Rosemary
Turmeric
Cayenne pepper
Pink Himalayan salt
Black pepper
Prep
Wash and rinse lentils thoroughly
Wash and rinse potatoes. Chop into small even squares for even cooking.
Wash and rinse spinach and tomatoes
Directions
Bring about a big enough pot to cook all the ingredients placing 2 cups of lentils, ½ an onion, 1 garlic clove, and 9 or more cups of water to a boil (enough to cover all the lentils and onion).
Next, wait roughly 25-30min. for the lentils to soften up. Add a pinch of each dried herb/spice (I added a little extra black pepper + cayenne) and remove the garlic at this point.
After, blend 3 tomatoes and ½ cup of water. Add drops of olive oil to a small pot and fry the tomato juice for roughly 4-5 minutes or until the tomato juice starts boiling. Add in the fried tomato juice, along with the chopped potatoes at this point. Let that simmer on a medium heat for another 15-20 min.
After the time is up, add in the elbow pasta and spinach and let that cook through for about 8 minutes letting all the flavors get absorbed by the pasta.
Finally, plate and in-joy with your loved ones! 13Love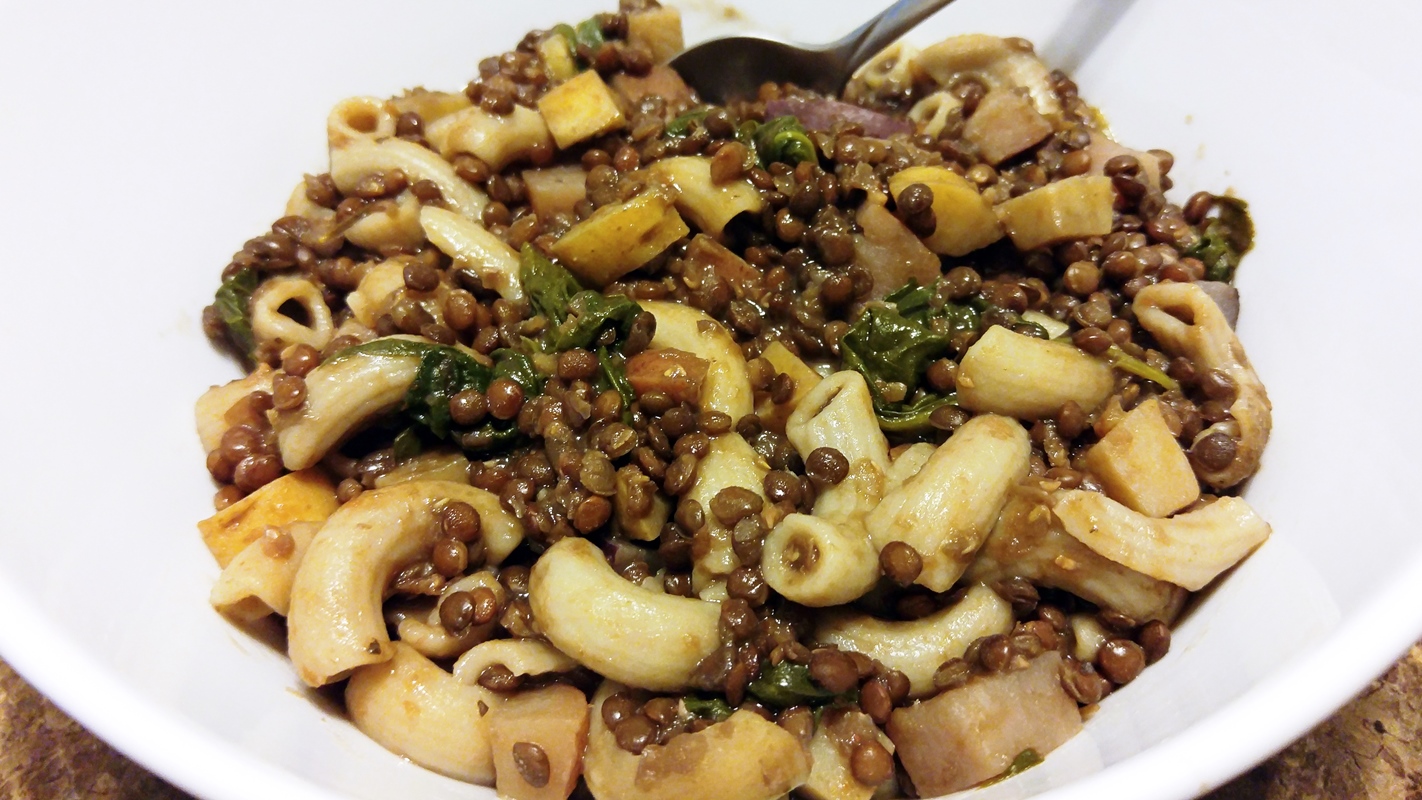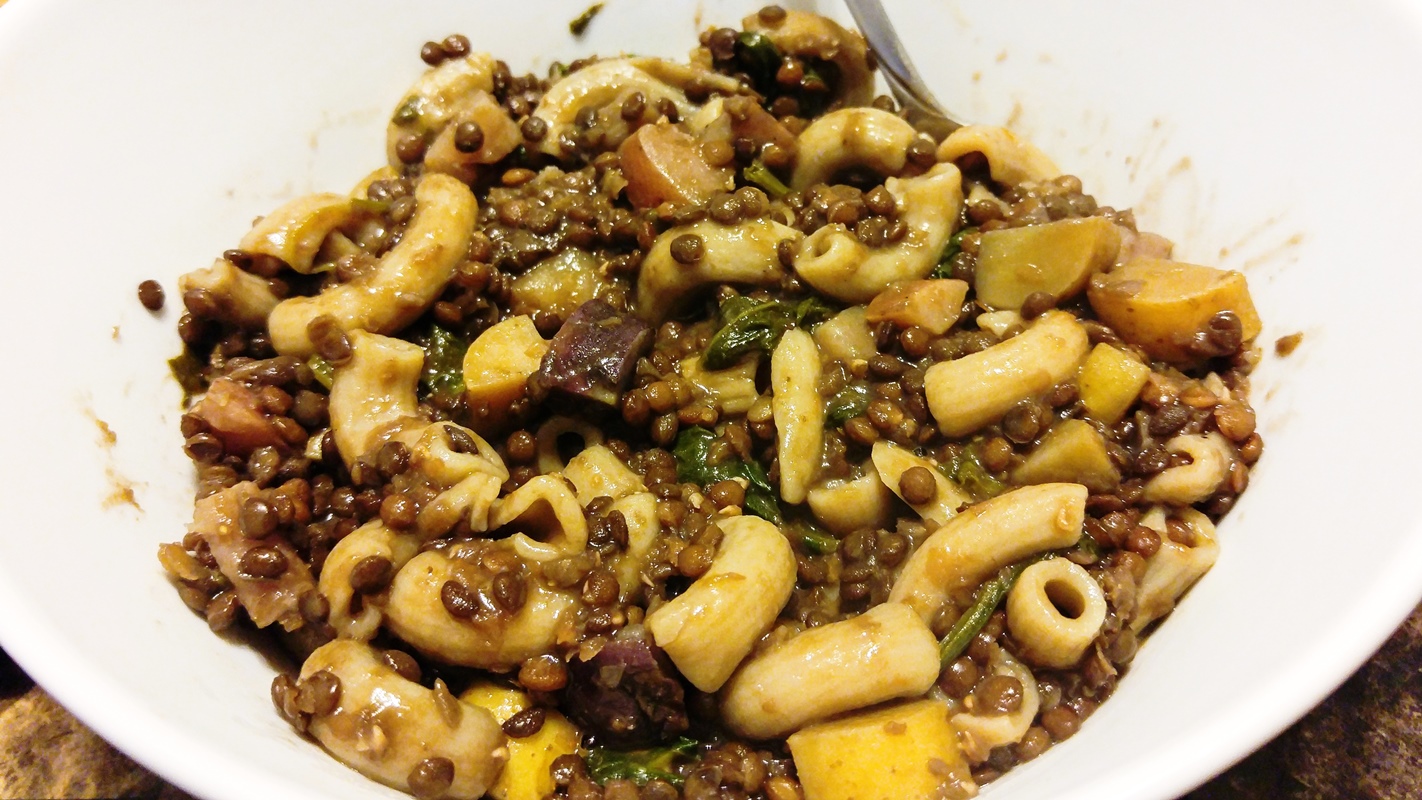 Servings
This recipe serves 6-8 people depending on the portions.
This recipe is simple and affordable to make weekly for you and your loved ones, especially if on a budget! You can always tweak the recipe and adjust everything to preference.
Benefits
Lentils belong to the legume family and are one of the best sources of fiber. Lentils are packed with dietary fiber which is great for lowering bad cholesterol, which can further lead to cardio vascular diseases. This dietary fiber holds soluble and insoluble fiber, which can regulate blood sugar, improve digestion, and can greatly reduce high cholesterol. Not only do lentils have high fiber content but also are in high folate and magnesium, which are great for the overall state of veins and arteries. Studies have shown that eating a diet rich in fiber can prevent many heart diseases by keeping arteries free of free forming radicals. Magnesium acts as Nature's calcium and helps veins and arteries relax, breathe, and flow better adding more oxygen, vitamins, and minerals to your blood. Studies show the low magnesium levels can lead to heart attacks and even damage the heart after the attack. High fiber foods especially lentils are great for anyone suffering with diabetes, insulin resistance, or hyperglycemia because not only does the fiber help the heart, but also the soluble fiber helps stabilize blood sugar! Lentils can also help give you a boost of energy because of the high content of iron found in these little legumes. Iron helps carry oxygen from your lungs, into your cells, and all around your body. Lentils are great for restoring iron stores in women especially experiencing a menstrual cycle as in those times women are prone to releasing iron stores. Lentils are also a great source of carbohydrates without all the extra fat. Lentils are also rich in various B vitamins, minerals, and protein with no fat! 1 cup of lentils = 230 calories + all the added vitamins, minerals, and protein! Amazing how plant based foods hold the keys to unlocking/unblocking junk data taught in school about nutrient. GO VEGAN.
Sources
http://www.whfoods.com/genpage.php?tname=foodspice&dbid=52
LINKS
Jewelry Shop – http://zeropointjewelry.com
Social Sites: Twitter, Google+ - DeyMaLex
Email: lexsea13@gmail.com